Compared with tiles, PVC(Poly Vinyl Chloride) floorings are easy to install and maintain. PVC floorings are also known to be 100% waterproof and 0 formaldehyde(HCHO). Due to the excellent properties of PVC floor, PVC flooring becomes a popular choice. And with time, PVC flooring has evolved out LVT flooring, WPC flooring and SPC flooring.
So what's the difference of these types of floorings and how to choose from them?
Unlike many other articles which are full of jargon, here I will break down them from aspects like structure, thickness, weight, price, usage, pros and cons or else in plain language.
No matter you purchase PVC floorings for home decor or business projects, you will find the most suitable one after reading this article.
1.What is LVT vinyl flooring
LVT(Luxury Vinyl Tile) flooring can be regarded as the first-generation product of WPC flooring and SPC flooring. It can be bent into rolls due to its good resilience.
The retail price of LVT vinyl flooring varies from place to place and needs to be installed by professionals. So it is often used in schools, kindergartens or playrooms.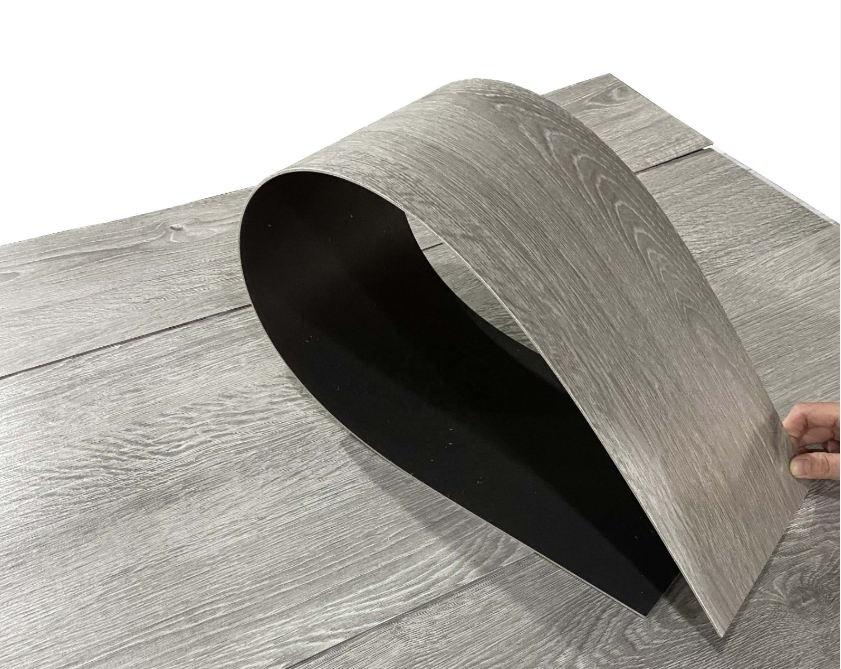 Pros: In addition to the waterproof and friendly environmental characteristics of PVC floor, the two most outstanding advantages of LVT vinyl floor are the lowest price of the three and its good elasticity and impact resistance.
Cons: The thickness of LVT floor is no more than 5 mm, making it thin and supple. Since it has a high requirement for installing, DIY luxury vinyl flooring will be a challenge.
Want the best LVT flooring? Send an email to [email protected] or submit a ticket. Hoy-Tech flooring offers LVT Dry Back, LVT Click and Lvt Loose Lay with the best quality.
2.What is SPC vinyl flooring
SPC and WPC are two kinds of rigid core vinyl floorings. As the name suggests, SPC(Stone Plastic Composite) flooring has a rigid core which is comprised of limestone, polyvinyl chloride and plasticizers. Likewise, WPC(Wood Plastic Composite) is different because of the wood pulp in its rigid core.
The SPC flooring price is a bit higher than LVT flooring price. And the thickness of SPC vinyl floor in the market is about 4 mm.
Pros: SPC vinyl flooring is the most durable option that can bear high traffic and will not easily crack or deform. It is easy to install and DIY-friendly. Clean and maintain SPC floors is also simple. You can just use a vacuum and a mop to termly protect its gloss. Another surprise is that SPC flooring can visually mimic stone and wood, making it very realistic.
Cons: Due to the composition of SPC, the biggest disadvantage of SPC is high density and weight, so the transportation cost will become higher accordingly. Besides, SPC flooring with a thickness of less than 5mm is also prone to tile change(The backboard of the floor is lengthened, resulting in a tiled deformation).
Hoy-Tech flooring offers the best spc flooring with thicknesses over 5mm and even 7 mm. No tile change to worry about and the most favorable cost to transport.
3.What is WPC vinyl flooring
As mentioned above, the core of WPC flooring is different from SPC. It contains foaming agent to make it softer and feel more comfortable. The thickness of WPC vinyl flooring can reach 8mm, so its price is usually higher than other products. So don't remember to check your budget.
In many cases, WPC flooring can be used not only for floor coverings, but also for wall panels and suspended ceilings. With lock, it is very convenient to install.
Pros: It is the most comfortable option which feels like solid wood flooring. Easy to install and DIY-Friendly. And you don't need to worry about tile change since the thickness of most WPC vinyl floors is over 6mm.
Cons: Two obvious drawbacks are high cost and being more likely to dent. It isn't durable like SPC rigid core vinyl, thus you need to pay more attention to protecting your WPC vinyl flooring.
4.Key differences between WPC floor and SPC floor
Now you have a basic understanding of what WPC floor and SPC floor are. Different components of rigid core differentiated them in many aspects. Here I list a helpful table to show their key differences. Check this list to find the floor that fits you best.
If you need any further help, feel free to contact us. Our professional team is sincerely ready to help you.